When investing in crypto, it is always hopeful that your chosen currency imitates Bitcoin in its beginnings and makes an x10, an x100, or, why not, an x1000 rise in value. That is exactly what DOGE has done. Unexpectedly, out of thin air.
Everything changed for Dogecoin in 2020 – 2021 when it started to gain exaggerated popularity. The hype came when certain public figures, especially one of the richest men on Earth – Elon Musk, the founder of Paypal, Tesla, and SpaceX – tweeted about DOGE.
Elon Musk didn't tweet about Dogecoin's technology or its potential, he just wrote two tweets – one with the word DOGE and the other somewhat cryptic.
The apparent affiliation of Musk with Dogecoin seems to have been the trigger for the current bull run and exaggerated price rise. Its popularity began to rise and DOGE has reached an All Time High of $0.74, astonishingly positioning itself among the Top 3 crypto with the largest market capitalization – together with BTC and ETH.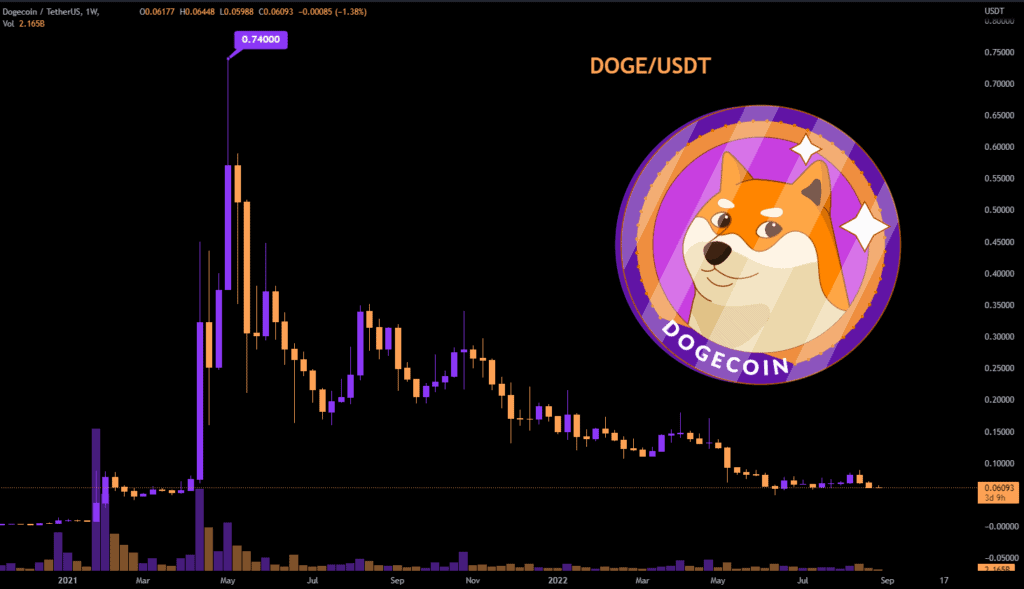 The most important points about Dogecoin
Dogecoin blockchain was created in 2013 and named after the popular meme of a Shiba Inu dog, which was a sensation on 4chan at that moment. DOGE is a widely known cryptocurrency. It is considered more of a meme – a good joke – than a serious cryptocurrency, but it has an interesting hidden story.
Many crypto millionaires and their kids are holding bags of this dog-faced cryptocurrency. On top of that, it seems that one of the richest men on earth – Elon Musk – also loves DOGE.
How does Dogecoin work
Dogecoin is a blockchain with an inflationary cryptocurrency coin. There is no finite number of DOGE to be mined. Instead, the number is unlimited – which the creators believe created a more versatile newcomer-friendly community. It also simply means that the price can never be driven up by scarcity – since there is no maximum supply cap.
The main characteristics of Dogecoin
The creators of the DOGE cryptocurrency used Litecoin technology to power the Dogecoin blockchain. Business wise not much happened in the project over the years. That suggests great potential for development on the fuel that is the love and hype created by the community. The development team promised to bring some big surprises for the crypto community in the next few years – regarding new features and new businesses on top of the Dogecoin ecosystem.
What is Dogecoin used for?
A great number of wales and long term holders of the coins are crypto OGs or crypto millionaires that bought, mined or received the coin. The main purposes for getting the coin in your portfolio was fun, testing or collecting. Yet, many crypto OGs – the ones that were involved with blockchain and cryptocurrency from the very beginnings – got the coins for their kids. Most of them are still holding it.
Genesis and founders of Dogecoin
DOGE was created as a sarcastic joke by Jackson Palmer – a product manager at Adobe. A software engineer at IBM – Bill Marcus – saw the buzz dogecoin was getting on the dedicated forums and developed some software for Palmer to accompany his visual product.
From there, the hype made the cryptocurrency price jump a staggering 300%. After only two weeks of being launched in 2013 it already became a viral sensation in the crypto world. Over the years – just like other old projects – the coin took losses in image after a handful of scandals and scams.
The Community of Dogecoin
There has always been a cool and crypto-loving community around Dogecoin. At the height of its success, the project donated millions of coins to relief funds and humanitarian projects worldwide. The whole project began with a friendly community of crypto enthusiasts that were experimenting together.
Like the rest of the cryptocurrencies, DOGE took a massive plunge in the bear market regarding price and hype. However, a dedicated team of miners continued to mine on the Dogecoin blockchain even in the bear market of 2018-2020. They kept believing in the cryptocurrency's mission.
More recently, in 2020, hype picked up again on DOGE. The community started posting viral videos on Tik Tok and after a short while the coin jumped in price X100+, bringing massive gains to the hodlers.
Why does Dogecoin matter?
It is very probable that Dogecoin's stages of evolution will be a phenomenon studied by sociologists in the future. Even now, in the bear market of 2022, in an astonishing way DOGE still ranks as a Top 10 cryptocurrency.
Many do not like DOGE and think it is in a big bubble. The growth was abnormal because it has grown too much, too fast. Dogecoin is not treated as a cryptocurrency with revolutionary technology – such as others.
The main point is not so much that it offers a good product – as that it has become a phenomenon of the masses.
Disclaimer: The content of this article is not investment advice and does not constitute an offer or solicitation to offer or recommendation of any investment product. It is for general purposes only and does not take into account your individual needs, investment objectives and specific financial and fiscal circumstances.
Although the material contained in this article was prepared based on information from public and private sources that IXFI believes to be reliable, no representation, warranty or undertaking, stated or implied, is given as to the accuracy of the information contained herein, and IXFI expressly disclaims any liability for the accuracy and completeness of the information contained in this article.
Investment involves risk; any ideas or strategies discussed herein should therefore not be undertaken by any individual without prior consultation with a financial professional for the purpose of assessing whether the ideas or strategies that are discussed are suitable to you based on your own personal financial and fiscal objectives, needs and risk tolerance. IXFI expressly disclaims any liability or loss incurred by any person who acts on the information, ideas or strategies discussed herein.